Native Touch is #WINNING at IAC 2019.
The IAC Awards recognize the best online advertising in 96 industries and 9 online formats including mobile, social media, video and more. Native Touch is proud to accept not one, but two awards in this year's competition!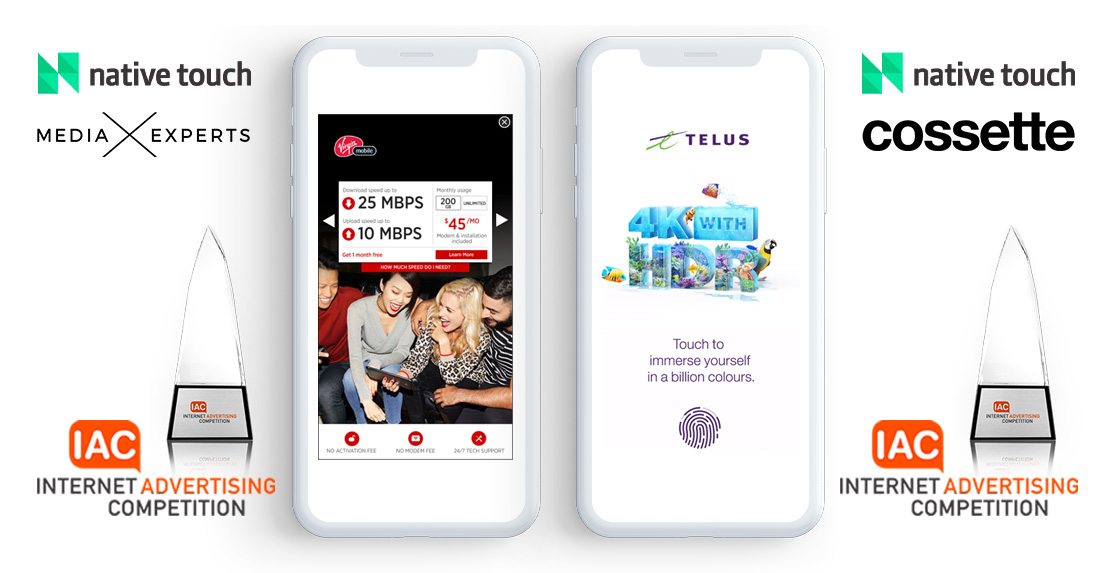 Virgin Mobile Home Internet Interactive Rich Media.
Best Internet Service Provider Rich Media Online Ad
Virgin mobile was looking for a way to show perspective clients their amazing home internet packages in an intuitive and informative way. Native Touch, in collaboration with Media Experts, took on the challenge to come up with a fun and engaging way for users to find a suitable internet plan for their usage needs.
Native Touch built a click to expand rich media ad where a user interacts and learns about Virgin's Home Internet packages. A gallery allows the user to browse packages and pricing, depending on their needs. Additionally, tapping on "How Much Speed Do I Need?", allows the user to see real-time download speeds if they were to choose that specific plan. The user has the ability to toggle between media types.
Telus 4K Optik TV Rich Media.
Best Tv Rich Media Online Ad
With the advent of 4K TV, Telus was looking for a unique way to showcase their amazing pixel perfect 4K TV experience. Using the phones built-in 3D touch technology, Native Touch and Cossette built a Click to Expand rich media ad to display the striking quality of Telus' 4K Optik TV.
As the user presses down on their screen, the 3D text fills and comes to life with aquatic life. Once the text has been filled, messaging animates onto the screen with a CTA to learn more on their landing page.
Click here to see all of the 2019 IAC Winners