Creative Solutions

Ad Stories
Bring your existing assets to Native Touch or let us build them for you!
Showcase Your Content
Engage users with a familiar yet different experience while showcasing existing or new content with Ad Stories.
A perfect format for short form video, product images, and simple reveal animations, we built this format from the ground up to provide great brand awareness and engagement.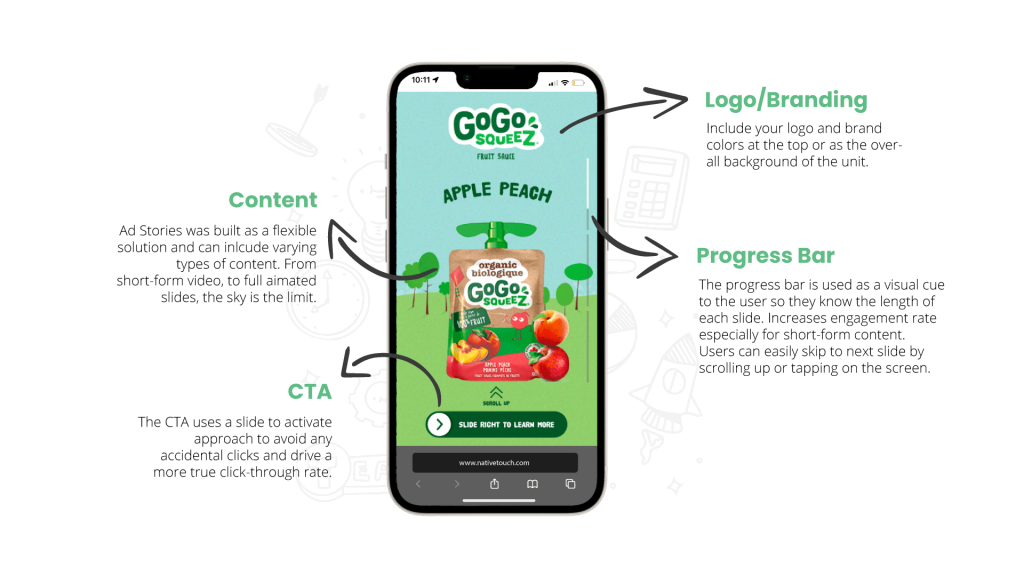 Ad Stories – Auto
Full Screen Interstitial Stories
Showcase existing short-form video and imagery in our full screen Ad Stories format.
Users can then slide to forwarded to a landing page.
Benefits
Interactive Map
Get instant directions
Drive in-store visits
Ad Stories – CPG
Full Screen Interstitial Stories
Showcase your products via our Ad Stories format. Products animate in and can include any additional information about the product (description, price, sizes, etc..)
Users can then slide to forwarded to a landing page.
Benefits
Drive user engagement
Support multiple landing page click outs
Showcase multiple products within the same video
Vehicle Showcase
Automotive Interactive Video
Use our Vehicle Showcase Interactive Video Ad Unit to showcase a line of vehicles, variations of the same model or features of a specific model all while the video ad plays. Users are can tap on each colour and see how the vehicle looks.  Popup overlays can also be included as users interact to show further details for a specific model of vehicle.
Benefits
Showcase various models, colours or features
Allow users to engage while video is playing
Drive to specific landing pages based on car or colour selected
Working with Canada's biggest brands and agencies
We believe in the limitless opportunities of mobile advertising. We use the power of customization, education and ongoing market research to help clients and partners navigate the rapidly growing and increasingly complex ecosystem. With 69% of digital spending projected to be invested in mobile by 2019, it is essential that brands and publishers place an increased focus on the limitless opportunities mobile has to offer.